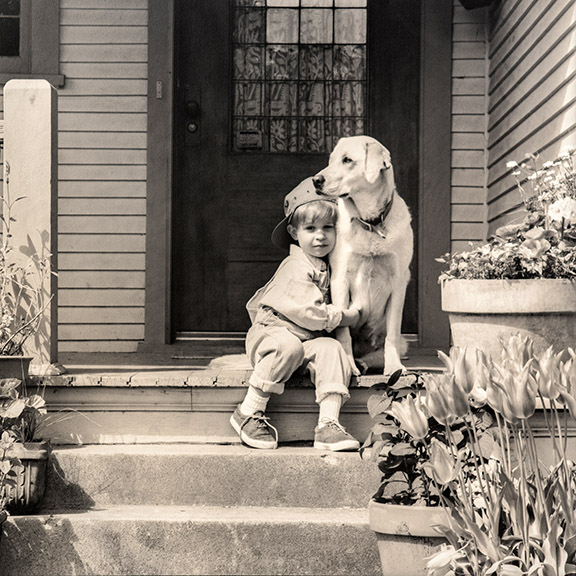 Hi Mel,
The prints are absolutely beautiful. A thousand times better than I was expecting. Well worth the wait. The enchanting story this image conveys touches me deeply. I can't wait to witness my brothers' reactions.
Et merci beaucoup pour le lagniappe!… as we would say back home in Louisiana. What a jewel, the little postmarked box and its contents. My dad and I spent 10 days on la costa del sol. The beautiful words and pictures in your little book bring back memories of that world so different. We often talk about going back during "el tiempo del melón."
Thank you from the bottom of my heart my good friend.
I am glad you are pleased. I thought you would be. There is nothing like the beauty of a well made silver print. And those prints are truly representative of of what my intentions were at the time. As you can see, they are soft, yet sharp. In the process of exposing the neg to paper I would wave a plastic bag under the enlarging lens for about a 1/3 of the exposure time. It would give the print a soft glow. But the fact that the neg itself is tack sharp, the print retains some of that clarity as well. The process gives the print a dreamy quality. I used that technique often, especially on portraits. Oddly enough, I have not found a good way to replicate that look in digital, at least like that.
I am also glad my little Spain book resonates with you as well. I spent six weeks there as a visiting artist in the summer of 1994. I stayed in the little village of Mojacar, to the east of Costa del Sol near Almeria.
Thank you for your kind words, and with your request allowing to go on a little journey to my artistic past. It has been a pleasure working with you and I hope you and your brothers enjoy  the image of Tyson and Ella for a long, long time.
Very best to you.
Mel